Junior/Adult Level
Praying Yourself out of Trouble

March 24, 2019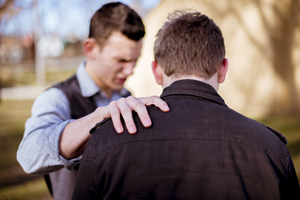 Junior Level

outline:
Ask the students - Have you ever faced a great trouble?
Ask the students - Did you think to pray?
Can anyone tell me about a prayer that God answered?
What happened to Jonah?
What does the Bible say?
Describe the joy and personal reward of humble dedication - the indwelling Christ
Challenge students to serve others in humility this week
Prayer
activity:
Bring a picture of a whale to class
discussion:
How many times have God's children faced distressing and hopeless circumstances because of disobedience to God. Is it not likely that much anguish could be spared us if we would surrender to God's will at all times and not just when calamity comes?


Serving others

God Bless you all,
~*Cindygirl*~
(cindygirl)
GOD Bless You.
:O)
CindyGirl - See my church!
Adams Hill Church, Morgan County, Tennessee
.

Grades 3-6 Sunday School Lesson
NT Women - Mary and Martha
Mary and Martha
Author's Notes: This week we'll continue our series on New Testament Women of Faith with two more women - sisters named Mary and Martha. They were close friends of Jesus. And there are several encounters between them recorded in the New Testament. Our primary focus in this lesson will be on one of the greatest tests of faith Mary and Martha had to face – the death of their brother, Lazarus. We'll find that they struggled with many of the emotions anyone might go through in that situation. But we'll also see that they didn't turn their backs on Jesus, even though they felt He had let them down. And in the end, their faith grew even greater because of what Jesus allowed to happen.
Coloring Page for Young Visitors
CURRENT HANDOUT
NT Women - Mary and Martha
Grades 3-6


Activity: (Review Questions)

Fill in the Blanks
Mary, Martha, and Lazarus lived in the town of Bethany.
When Lazarus became sick, his sisters sent word to Jesus.
Jesus told His disciples that Lazarus was only sleeping.
When Jesus arrived in Bethany, Lazarus had been dead for four days.
When Martha heard that Jesus had come to Bethany, she went out to meet Him.
True or False

1. Mary, Martha, and Lazarus were friends of Jesus. (true)
2. When Jesus learned of Lazarus sickness, He left right away to go and heal him. (false – He stayed where He was two more days)
3. When Mary heard that Jesus was in Bethany, she went with Martha to meet Him. (false – she stayed in the house)
4. Mary and Martha both believed that Jesus could have healed Lazarus. (true)
5. Jesus waited till Lazarus was dead so He could do an even greater miracle. (true)


Lisa's Other Grade 3-6 Lessons

-- Lisa DeVinney --
Primary Level
A Child's Primary Lesson from 1 Corinthians, Primary Lesson Plan by Julie Pisacane
March 24, 2019
Today's Bible Reading :
1Paul called to be an apostle of Jesus Christ through the will of God, and Sosthenes our brother,
2Unto the church of God which is at Corinth, to them that are sanctified in Christ Jesus, called to be saints, with all that in every place call upon the name of Jesus Christ our Lord, both their's and our's:
3Grace be unto you, and peace, from God our Father, and from the Lord Jesus Christ.
4I thank my God always on your behalf, for the grace of God which is given you by Jesus Christ;
5That in every thing ye are enriched by him, in all utterance, and in all knowledge;
6Even as the testimony of Christ was confirmed in you:
7So that ye come behind in no gift; waiting for the coming of our Lord Jesus Christ:
8Who shall also confirm you unto the end, that ye may be blameless in the day of our Lord Jesus Christ.
9God is faithful, by whom ye were called unto the fellowship of his Son Jesus Christ our Lord.
CURRENT HANDOUT
Follow Up Discussion Questions:
1. Does a teacher sometimes call upon you to answer a question ?
2. Does a parent or relative call upon you for your help ?
3. Does a friend call upon you to be with you or do something together ?
4. Do we learn from the Bible of God calling upon some to do as He instructed ?
5. Does God help those He calls upon ?
6. Can God call upon you ?
7. How will you respond ?
8. Is there anything you can thank God for today ? Teacher can start a prayer of thanks outloud
and children can follow with their own mentions as to why they are thankful to God this day .
9. Read the Corinthians Bible passage outloud to the children again and ask them to pay very close attention and count how many times Paul refers to Jesus Christ .
10. Do you think Paul loved Jesus and thought often of Him ?
11. Do you think of Jesus often and love Him too ?
________________________________________