Junior/Adult Level
March 25, 2018
Jonah
/p> g>
Junior Level
This week we will be looking at the life of a man called Jonah. Jonah was called by God to do a great service, but Jonah ran at first. We will read to see what happened when Jonah ran and what God had to do in order to get him back on track. Dear one, today as you read or listen to this lesson, know this, no matter how you feel about something, if God has called you, if He has chosen you, then You are the right one for the service. Do not be afraid because Your God will do the work through you if you will just surrender and obey. We have a wonderful Father who will never leave us alone! He is so good, and His love and mercy endures forever!
Junior Level
CURRENT HANDOUT
Jonah, by CindyGirl
March 25, 2018
Psalm 126
When the LORD turned again the captivity of Zion, we were like them that dream. Then was our mouth filled with laughter, and our tongue with singing: then said they among the heathen, The LORD hath done great things for them. The LORD hath done great things for us; whereof we are glad. Turn again our captivity, O LORD, as the streams in the south. They that sow in tears shall reap in joy. He that goeth forth and weepeth, bearing precious seed, shall doubtless come again with rejoicing, bringing his sheaves with him.

God Bless you.
Cindygirl's Other Junior/Adult Lessons
(cindygirl)
GOD Bless You.
:O)
CindyGirl - See my church!
Adams Hill Church, Morgan County, Tennessee
.

March 25, 2018
Joseph, Part 6 - True Transformation, by Lisa DeVinney




Through the Bible

Grades 3-6 Sunday School Lesson
Joseph: Part 6
True Transformation
Author's Notes: Last week we asked the question: can a leopard change his spots? We found that while it cannot, if it were to become a whole new creature, for example – a lion, then it could be rid of its spots. And we learned that God can make us into brand new creatures when we are born again. He can wash away our sin-spots with the blood of Christ. But how can we know that this change has really taken place? There should be changes in our lives that are consistent with that new creature that we've become. Today we're going to take a close look at Joseph's brothers, to see if there's any evidence that their hearts have truly changed. And we'll take a close look at ourselves, too, to see if there's evidence that we are truly new creatures, with the Holy Spirit living inside.
CURRENT HANDOUT
Joseph, Part 6 - True Transformation, by Lisa DeVinney

Fill in the Blanks
When Joseph's brothers stopped for the night, they found in their sacks.
Jacob and his sons were when they saw the money back in their sacks.
Jacob was upset to learn that had been left behind in Egypt.
Joseph's brothers could not return to Egypt without their brother, .
Jacob sent his sons back to Egypt with for the governor.
Lisa's Other Grade 3-6 Lessons
-- Lisa DeVinney --
Primary Level
God Will Provide
Primary Lesson Plan by Julie Pisacane

March 25, 2018
God Will Provide
Opening Prayer: Join together in prayer thanking the Lord
for this new day and opportunity to learn from
His Word - the valuable lessons we need
taht we may walk humbly with Him,
trusting Him with all things.
HANDOUT
-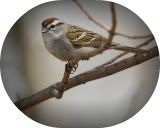 A Sparrow's Life

In the dawn of this new day
I watch from upon a rooftop
Observing below…trying to find
Crumbs that someone left behind.