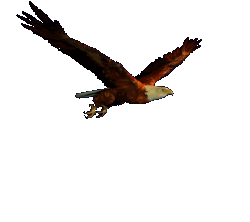 FACTS ABOUT EAGLES:
The bald EAGLE is swift and powerful, with keen vision. It can see three or four times farther than a human can. As an eagle sits upon its perch and observes its surrounding, it warns its fellow eagles of danger.
God wants us to have eyes like an eagle, to see those around us, to see their needs, to warn them of danger. Ezekiel 22:30 "And I sought for a man among them, that should make up the hedge, and stand in the gap before me for the land, that I should not destroy it:.."
We are living in the last days, and it is our duty to warn our fellow human beings that judgment is soon coming. How we do this is up to us. Some people are more adept at speaking to people, while others find it in their nature to warn people by the written word. But just as the eagle remained alert to dangers, and told his fellows about it, so should we.
FACTS ABOUT DOVES:
In contrast to the eagle, a dove is a gentle creature. It is timid and trembling, not aggressive. In the Bible it is a symbol of peace. God wants us to be peaceful, not trouble makers. He wants us to portray love to our fellow man. While we are to warn them of judgment to come, we are also to show them God's love.

May God grant us the eyes of an eagle, and the heart of a dove.
I think that Isaiah 26:3 and 4 summarizes the contrast--yet the blend--of the eagle and the dove. "Thou wilt keep him in perfect peace, whose mind is stayed on thee: because he trusteth in thee. (The dove) 'ÄĚTrust ye in the Lord forever, for the Lord Jehovah is everlasting strength." (The eagle)

THE PEACE OF THE DOVE,
THE STRENGTH OF THE EAGLE.

© Helen Dowd-
Click here to enter Helen's site


Poetry Corner
Searching


A
soft
white
dove
loops
around
me from
above
with a
curious
eye
appearing
to search
the inner
depths
of my
soul
only to
become
cleverly
aware
that
You,
dear Lord
are the
One
to have
filled it
with
eternal
bounties
of Your
perfect
Holy
love.



Psalm 139:1
O LORD, thou hast searched me,
and known me.


Julie Pisacane©
Click here to enter Julie's Poetry Site
--
Brought to you by
Pages of My Heart Ministry