Fear Not Little Flock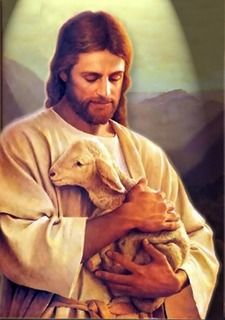 Opening Prayer: Join together in prayer asking God to help us understand the valuable lessons of His love and care toward us . Let us be thankful for Jesus Christ , our great Shepherd.
JESUS LOVES THE LITTLE CHILDREN
Jesus calls the children dear,
"Come to me and never fear,
For I love the little children of the world;
I will take you by the hand,
Lead you to the better land,
For I love the little

children of the world

."
Refrain
Jesus loves the little children,
All the children of the world.
Red and yellow, black and white,
All are precious in His sight,
Jesus loves the little children of the world.
Jesus is the Shepherd true,
And He'll always stand by you,
For He loves the little children of the world;
He's a Savior great and strong,
And He'll shield you from the wrong,
For He loves the little children of the world.
Refrain
Luke

12:32

Fear not, little flock; for it is your Father's good
pleasure to give you the kingdom.
Opening Discussion Questions :
1. What is a flock ?
2. What is a person called who has taken the responsibility of keeping
the flock together ?
3. Did you know that Jesus refers to his followers as sheep ?
4. Did you know that the Bible refers to Jesus as the Shepherd ?
5. Does a shepherd take good care in watching over his sheep ?
6. Will a shepherd go after a little sheep that is lost ?
7. Does a shepherd bring the sheep to

green pasture

?
8. Why does he do this ? Talk about it !
________________________________________________________________
Today's Bible Reading :
4 What man of you, having an hundred sheep, if he lose one of them,
doth not leave the ninety and nine in the wilderness, and go after that which is lost, until he find it?
5 And when he hath found it, he layeth it on his shoulders, rejoicing.
6 And when he cometh home, he calleth together his friends and neighbours,
saying unto them, Rejoice with me; for I have found my sheep which was lost.
7 I say unto you, that likewise joy shall be in heaven over one
sinner that repenteth, more than over ninety and nine just persons,
which need no repentance.
Luke 15
_______________________________________________________________________
Follow Up Bible Questions and Discussion :
1- In this passage what does
Jesus mean when he tells us of the lost sheep ? Refer to verse 7
2-Talk about what it means to sin and what it means to repent
of sinning .
3- Have you ever lost something and then later found it or someone
else found it for you ?
4- How did that make you feel ?
5. How much more joy do you think God has when one of his children
strayed and then came back to Him prayerfully and truly asking for
forgiveness,help and for guidance ?
6. Did you know that Jesus loves you ?
7. Fill in the blanks for today's focus verse:
Fear not, little __________; for it is your Father's good

pleasure to give you the _______________.
_______________________________________________________________
Follow Up Craft Activity : ( Construction Paper + Crayons )
Draw Sheep in A
Green Pasture
On the bottom of the picture write the to following verse :
"The Lord is My Shepherd "- Psalm 23
_____________________________________________________
In The
Holy Mountains
There is shelter in His Mountains
And gardens that smell sweet
Gladness fills the hearts of those
As the Shepherd here will greet.

Greet them and offer pastures
That feed His timid sheep
Upon the holy mountains
Guarded in His keep.

Streams sing softly in the light
Quenching the thirst of a fawn
Peaceful is the blessed season
And the gift of every dawn.

Golden flowers are everywhere
A site to behold and see
Perfumed scents, they freely share
Then rise and float to Heaven.

Beautiful are His Mountains,
That nourish the good flock
Led by One who loves them
Our Shepherd and our Rock.




Psalm 87:1 His foundation is in the

holy mountains

.

Isaiah 40: 11 He shall feed his flock like a Shepherd:
he shall gather the lambs with his arm,
and carry them in his bosom, and shall gently lead those
that are with young.

Julie Pisacane ©
__________________________________________________________
Close In Prayer .