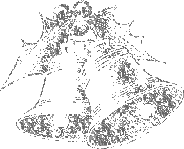 Rejoice
Opening Prayer : Join together in a

prayer of thanks and praise
as we approach a time of celebration to reflect upon
the

holy Child Jesus

-- born to forever be our Lord and Saviour .
May God bless us as we read from His Word

today

about the good news
announced of the blessed birth that happened long ago
and changed everything for those who believe in Him.
Focus Lesson

Bible Verse

:
Luke 1: 31 And, behold, thou shalt conceive in thy womb,
and bring forth a son, and shalt call his name JESUS.
Bible Reading: Luke 1:26-38
26 And in the sixth month the
angel Gabriel
was sent from God unto a city of Galilee, named Nazareth, 27 To a virgin espoused to a man whose name was Joseph, of the
house of David
; and the virgin's name was Mary. 28 And the angel came in unto her, and said, Hail, thou that art highly favoured, the Lord is with thee: blessed art thou among women. 29 And when she saw him, she was troubled at his saying, and cast in her mind what manner of salutation this should be. 30 And the angel said unto her, Fear not, Mary: for thou hast found favour with God. 31 And, behold, thou shalt conceive in thy womb, and bring forth a son, and shalt call his name JESUS. 32 He shall be great, and shall be called the Son of the Highest: and the Lord God shall give unto him the throne of his father David: 33 And he shall reign over the
house of Jacob
for ever; and of his kingdom there shall be no end. 34 Then said Mary unto the angel, How shall this be, seeing I know not a man? 35 And the angel answered and said unto her, The
Holy Ghost
shall come upon thee, and the power of the Highest shall overshadow thee: therefore also that holy thing which shall be born of thee shall be called the
Son of God
. 36 And, behold, thy cousin Elisabeth, she hath also conceived a son in her old age: and this is the sixth month with her, who was called barren. 37 For with God nothing shall be impossible. 38 And Mary said, Behold the
handmaid of the Lord
; be it unto me according to thy word. And the angel departed from her.
Follow Up Questions :
1.What angel is mentioned in this reading ? vs . 26
2. Who did the angel visit ? vs. 27
3. Fill in the blank : the Lord is with thee: _______ art thou among _________.
4. Fill in The blank : and shalt call his name __________________.
5. Fill in the blank : For with God _________ shall be____________. vs.37
____________________________________________________________
Hymntime:
O LITTLE TOWN OF BETHLEHEM
O little town of Bethlehem
, how still we see thee lie!
Above thy deep and
dreamless sleep
the silent stars go by.
Yet in thy dark streets shineth the everlasting Light;
The hopes and fears of all the years are met in thee
tonight
.
For Christ is born of Mary, and gathered all above,
While mortals sleep, the angels keep their watch of wondering love.
O morning stars together, proclaim the holy birth,
And praises sing to God the King, and peace to men on earth!
How silently, how silently, the wondrous Gift is giv'n;
So God imparts to human hearts the blessings of His
Heav
'n.
No ear may hear His coming, but in this
world of sin
,
Where meek souls will receive Him still, the dear Christ enters in.
Where children pure and happy pray to the blessèd Child,
Where misery cries out to Thee, Son of the mother mild;
Where charity stands watching and faith holds wide the door,
The dark night wakes, the glory breaks, and
Christmas
comes once more.
O holy Child of Bethlehem, descend to us, we pray;
Cast out our sin, and enter in, be born in us
today
.
We hear the
Christmas angels
the great
glad tidings
tell;
O come to us, abide with us, our Lord Emmanuel!
_______________________________________________________________
Christmas Greetings

Published with thanksgiving
Are many cards that travel
from home to home
Around the world
At a certain time each year
Filling our hearts with cheer,
and great joy
Over the birth
of a gentle,
blessed boy,
Jesus.

Published greetings sent with love,
Some are homemade
With a picture of a dove,
A stable, or maybe a shimmering star -
Others will show wise men
Having travelled afar
To worship the
Christ child,
Jesus.

Today, cards are
Still written with tender care
In remembrance of the birth
Of God's own son
Who blessed this earth
giving all He could give
that we may be reconciled
and through Him live ...
How thankful we are
for our Lord and
Saviour -
Jesus.

Rejoice!

Craft Activity for Today : Construction Paper /White Paper / Crayons
Have The Children Make Christmas Cards For Their Families and
For those listed on your Church's prayer list of the sick .
_______________________________________________________
Remember --

Jesus Christ

is our Hope , our Peace and our Reason
to rejoice throughout each blessed season.
_____________________________________________________
Close with prayer and may our gracious God richly bless all of you .