The Wise Men's Journey
Opening Prayer: Gather in prayer today thanking
the Lord for another blessed opportunity to learn
about the journey taken by some
to witness and worship the
King of all Kings
,
Jesus Christ
.
Memory Verse: When they saw the star,
they rejoiced with exceeding great joy. Matthew 2:10


Suggested Bible Reading:


Now when Jesus was born in Bethlehem of Judaea

in the days of Herod the king, behold,

there came wise men from the east to Jerusalem,

2 Saying, Where is he that is born King of the Jews?
for we have seen his star in the east, and are come to worship him.

3 When Herod the king had heard these things, he was troubled,
and all Jerusalem with him.
4 And when he had gathered all the chief priests and scribes
of the people together, he demanded of them where Christ should be born.
5 And they said unto him, In Bethlehem of Judaea:
for thus it is written by the prophet,

6 And thou Bethlehem, in the land of Juda, art not
the least among the princes of Juda: for out of thee shall come a Governor,

that shall rule my people Israel.

7 Then Herod, when he had privily called the wise men,
enquired of them diligently what time the star appeared.

8 And he sent them to Bethlehem, and said, Go and search

diligently for the young child; and when ye have found him,

bring me word again, that I may come and worship him also.
9 When they had heard the king, they departed; and, lo, the star,
which they saw in the east, went before them,
till it came and stood over where the young child was.

10 When they saw the star, they rejoiced with exceeding great joy.

11 And when they were come into the house,
they saw the young child with Mary his mother, and fell down,
and worshipped him: and when they had opened their treasures,


Matthew 2



Follow up questions:

1. What is the name of the town where Jesus was born ? ( Vs. 1)

2. What was the name of the King who had asked the wise men
about Christ ? ( Vs. 1,3)

3. Was Herod happy or troubled to learn of Christ's birth ? ( vs 3)

4. What was the direction of the star ? ( vs. 2, 9)

5 Was it known already that this child was born a King ? ( vs 2.)

6. Can you name the gifts the wise men presented to their King ? ( vs 11 )

7. Did they worship the child King ? ( vs. 11)

8. Did you know He is still loved and worshiped today ?
____________________________________________________

Lesson Craft Activity: Draw the night time picture with a big bright
shining star based on today's Bible reading with the wise men
making their journey. Include as many details from
the Bible reading as you can.


_____________________________________________________________
Hymntime
We
three kings
of Orient are;
Bearing gifts we traverse afar,
Field and fountain, moor and mountain,
Following yonder star.
Refrain
O star of wonder, star of light,
Star with royal beauty bright,
Westward leading, still proceeding,
Guide us to thy perfect light.
Born a king on Bethlehem's plain
Gold I bring to crown Him again,
King forever, ceasing never,
Over us all to reign.
Refrain
Frankincense
to offer have I;
Incense owns a deity nigh;
Prayer and praising, voices raising,
Worshipping God
on high.
Refrain
Glorious now behold Him arise;
King and God and sacrifice;
Alleluia, Alleluia,
Sounds through the earth and skies.
Refrain
__________________________________________________________________________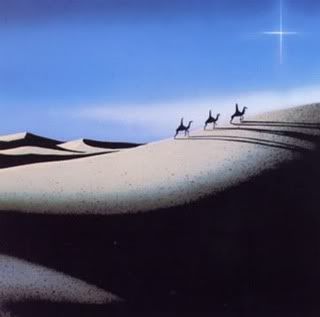 Song Of

The Wise Men



Wise men travelled far to see
Fulfillment of great prophecy.
Wise men watched and prayed
For this momentous day
Observing,Searching
Trusting Scripture
Words preserved
Words of old-
Divine truth
Gloriously
Told.
Wise men were blessed
To meet the One
Who would tenderly
Shepherd us
Into His
Fold.
Wise men brought
The gentle King-
Their devoted hearts,
And gifts of Myrrh,
Frankincense
and
Gold.
All the wise souls this day
Bring a gift of song
To Christ our King.
A
song of praise
Sung bright and bold
A song well known
That can't grow
Old.
Christ our Shepherd, our eternal King
Brought us the greatest
Gift of all- Salvation
Given purely, lovingly
A gift - never meant
To be returned,
Rejected- Nor
Sold.

And when they were come into the house, they saw the
young child with Mary his mother, and fell down, and
worshipped him: and when they had opened their treasures,
they presented unto him gifts; gold, and frankincense, and myrrh. -Matthew 2:11


Julie Pisacane © 2010
__________________________________________
Close With Prayer.