Grades 3-6 Sunday School Lesson
By Faith, Abraham
Lesson 4: Faith Means Action – Abraham's Sacrifice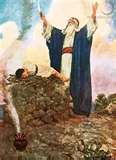 Memory Verse:
"Even so faith, if it hath not works, is dead, being alone." James 2:17

Key verses for this week:

"By faith Abraham, when he was tried, offered up Isaac: and he that had received the promises offered up his only begotten son, Of whom it was said, That in Isaac shall thy seed be called: Accounting that God was able to raise him up, even from the dead; from whence also he received him in a figure." Hebrews 11:17-19

"And Abraham said, My son, God will provide himself a lamb for a burnt offering: so they went both of them together." Genesis 22:8
"And he said, Lay not thine hand upon the lad, neither do thou any thing unto him: for now I know that thou fearest God, seeing thou hast not withheld thy son, thine only son from me." Genesis 22:12
Fill in the Blanks
God wanted to test Abraham's .
God asked Abraham to sacrifice his .
Abraham told Isaac that would provide a lamb for the sacrifice.
Abraham bound , and put him on the altar for the sacrifice.
Abraham offered the that was caught in the thicket, instead of Isaac.
True or False
1. Isaac knew ahead of time that he was supposed to be the sacrifice
2. Abraham told his servants that he would return from the mountain alone.
3. Isaac fought with Abraham when he tried to put him on the altar.
4. God stopped Abraham from killing Isaac.
5. God reminded Abraham of His blessings when the sacrifice was done.